You will speak Spanish!

Our method is simple: we take advantage of your motivation in order to improve your Spanish in short time.

Several programs available: Traveller, Standard, Volunteer or Professional, select the one you need. More...
Flexible method: Practicing current best practices in World Language Instruction. More...
Comfortable Infrastructure: Ample infrastructure, classrooms and garden tables, great for role-play activities, internet, cafeteria. More...
Immersion is priorized: Use of Spanish to solve your daily needs in the city is first priority. More...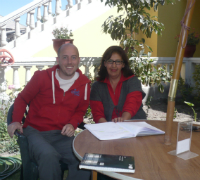 OUR REGULAR PROGRAMS

We give you several options according to your requirements. Every program offers BEGINNER, INTERMEDIATE and ADVANCED levels according to your background in Spanish. You can ask for a placement test before registering, or upon arrival. There is no cost for this.
Private courses are our speciality. If you are travelling with friends or a group, you can arrange group courses. We also open small group (<6) courses regularly. Check schedule.
SPANISH FOR TRAVELLING: Our most popular option. For those interested in understanding and communicating with our people while travelling around Latin America. A flexible program with travel vocabulary, useful everyday phrases, cultural explanations and, most importantly, a strong emphasis on pronunciation. One week minimum, two weeks is more advantageous. An assessment interview is free. 20 hours and 10 hours per week courses are available.
STANDARD SPANISH PROGRAM: A short term, more formal Spanish course. Pronunciation, writing skills and grammar structures are included. A great compliment to your previous Spanish studies. Intensive Spanish speaking. Contents are decided between teacher and students in order to define objectives to achieve.
* BASIC level for those "struggling" with structures and tenses. This level requires at least 6 weeks classes to be completed.
* INTERMEDIATE level focuses in conversational themes selected by the student, without forgetting a review of week's grammar aspects. It's completed with at least 6 weeks of classes.
* ADVANCED level is for people with a strong knowledge of Spanish. Emphasis placed on discussing social and professional themes. It's completed with at least 6 weeks of classes.
Assessment test available.
A final test showing your success level is available on request for free.
We recommend at least a 2 week registration in order to have excellent results.

SPANISH FOR VOLUNTEERING: For those volunteering in Spanish speaking countries and looking for a "fast track" to learn or improve the language. Strength in contextual language related to your work (education, children care, medicine, etc.). A great course to immerse you in the local ambiance. Organizations such as GVI, Carpe Diem and Swedish Red Cross trust their volunteers to us. We can also advise you about volunteer opportunities in Peru. Contents will vary according to your actual Spanish knowledge. A minimum of 2 weeks is recommended.
SPECIAL SPANISH COURSES: We can also prepare courses for special professional needs or as part of a foreing language experience for Colleges and Universities. Teaching, health, history, foreing issues, are some of the courses we have dictated to the moment. Please contact us for details.

Current Courses FEES
All courses have the same price. The difference is on the level you are taking:
| | | |
| --- | --- | --- |
| Course | Period | Price |
| Private Basic/ Intermediate Level | 20 hours | $135 |
| Private Advanced Level | 20 hours | $ 140 |
| Group Basic/Intermediate Level | 20 hours | $ 80 |
* 20 hours is a one week course.
* Courses start on Monday regularly.
* Four hours daily, morning or afternoon shifts.
* Grops are for those registering together. We Do NOT organize them.
In Spanish School Arequipa, our main interest is for you succeed in genuine communication in Spanish. Our flexible approach is customized according to your abilities, strengths, and interests.
We offer content based classes, grammar instruction as a means to an end, vocabulary taught in meaningful contexts, and fun activities to keep you motivated..

You will love our "UT ADUIRE VERBA NOVA" policy while in classes (fun game all our students play)"
We share infrastructure with Casa de Avila Hotel, a 4000 sf installation with a beautiful and big central garden. Regular classes are available, but most of our students prefer to take classes in the garden under an umbrella and surrounded by nature. All the hotel infrastructure is intensively used for role-play activities. A discounted rate is also available if you take accommodation together with classes.

Arequipa is ideal to implement an IMMERSION PROGRAM while your staying. Jeannett Barrientos, our Academic Director enforces our teachers to challenge our students to go by the city and solve their daily requirements communicating themrselves in Spanish. Acting like locals. In class they review these experiences and improve uses and dialogs to make it better. Simple, but we know it works as the best homework available. And this city is heaven for this practice. Friendly, safe, most places at walking distance, taxis for less that 3 dollars! and very occidental.